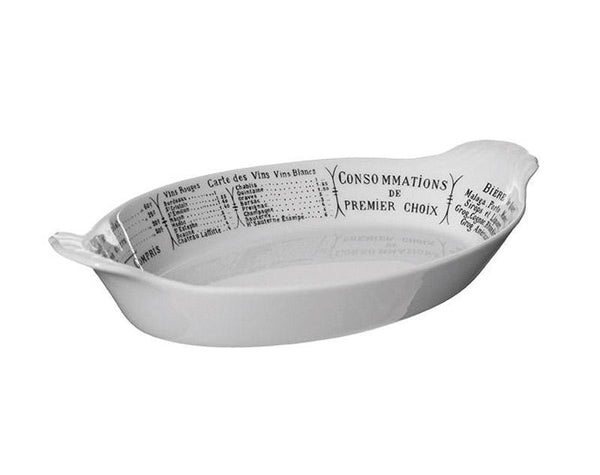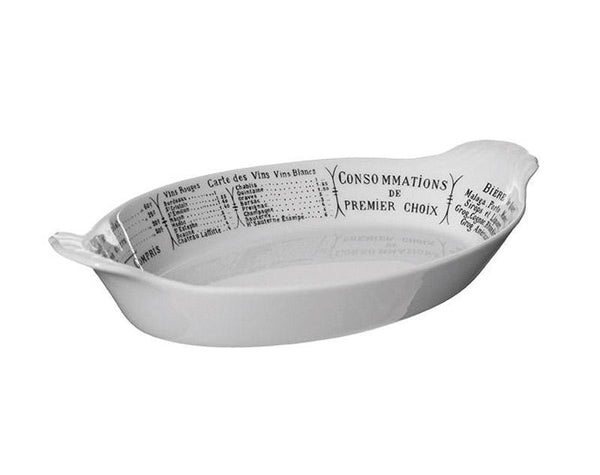 Pillivuyt Brasserie Oval Eared Dish - Set of 2
Pillivuyt Brasserie Oval Eared Dish - Set of 2

Collection Brasserie transports you to the cafes of Paris where time seems to stand still as you watch the world go by. Made from the finest French porcelain and decorated with vintage French menus, Pillivuyt's Brasserie Oval Eared Dishes are the perfect addition to your dishware collection. These dishes are lighter in weight than traditional bakers, yet are just as durable! They are the perfect shallow dish for gratins and other delicious bakes. Oven, freezer, dishwasher and microwave safe.
The Pillivuyt Factory has been producing fine porcelain in the heart of the Berry region for 200 years, making it home to some of the oldest and most prestigious porcelain brands in France. Pillivuyt represents a tradition of excellence, handed down from generation to generation of master artisans and industrial porcelain makers. Each item is made entirely and uniquely in France, and the company is a beacon for French excellence and expertise around the globe.
Features
Set of 2

Decorated with vintage French menus

Lead and cadmium free

Oven, freezer, microwave and dishwasher safe

Thermal-shock resistant
Safely transfer dish from the freezer to a hot oven


Resistant to chipping, scratching, cracking and crazing

Made in France
Size
Materials
Return
This item is covered under our 30 day return policy.