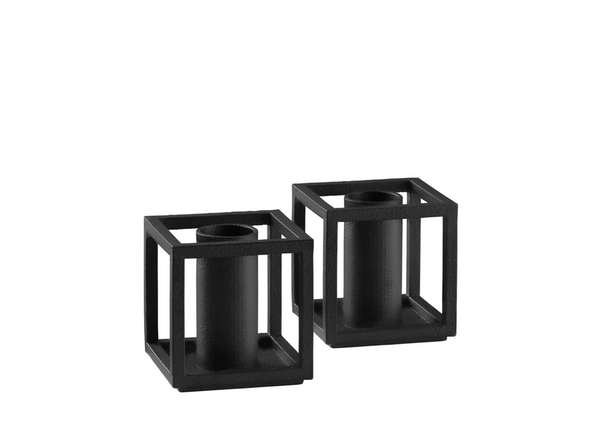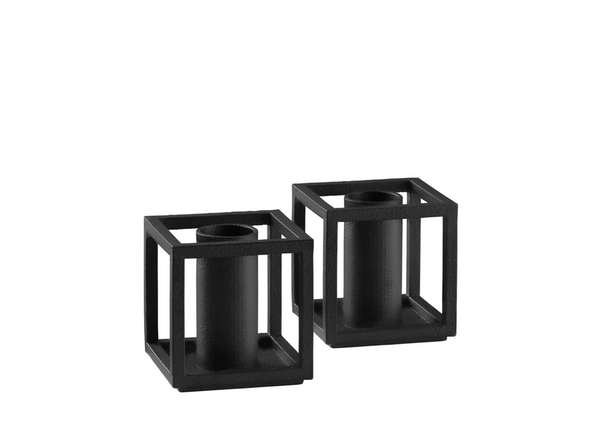 byLassen Kubus Micro Candleholders - Set of 2
byLassen Kubus Micro Candleholders - Set of 2
A new small wonder has seen the light of day. Kubus Micro is a stylish, smaller version of the iconic Kubus candleholder and is also designed by Mogens Lassen. It is based on the exact same mathematical geometry as The very first Kubus Candleholder Mogens Lassen designed in 1962. Just very much smaller. Precisely half the size of Kubus 1. The black Kubus-shape frames the light beautifully and adds a mi¬nimalist expression to the table setting. Kubus Micro fits a single candle and is perfect for all kinds of festivities, where the table must be beautifully laid, and you want a very special atmosphere. The candleholder works alone in a beautiful still life or arranges several together for a greater effect.
Kubus Micro comes in a package with 2 small candleholders, so they can decorate nicely together on the windowsill, on the dinner table, dresser, or even as Advent candles. Kubus Micro is produced by Lassen's own factory in Denmark and is the epitome of Danish design.

The Lassen brothers' archive of architecture and furniture design represents the finest qualities of the Danish design tradition. A collection has been carefully and humbly selected, the furniture designs that were chosen to be reintroduced to the world will hopefully live a long life in the homes of future generations as beacons of the Danish design tradition that has inspired so many design talents.

Features
A smaller version of the iconic Kubus candleholder

Black cubistic shapes

Produced by Lassen's own factory in Denmark


Designed by Mogens Lassen



Size
1.44''H x 1.38''W x 1.38''L



Materials
Returns
This item is covered under our 30-day return policy.