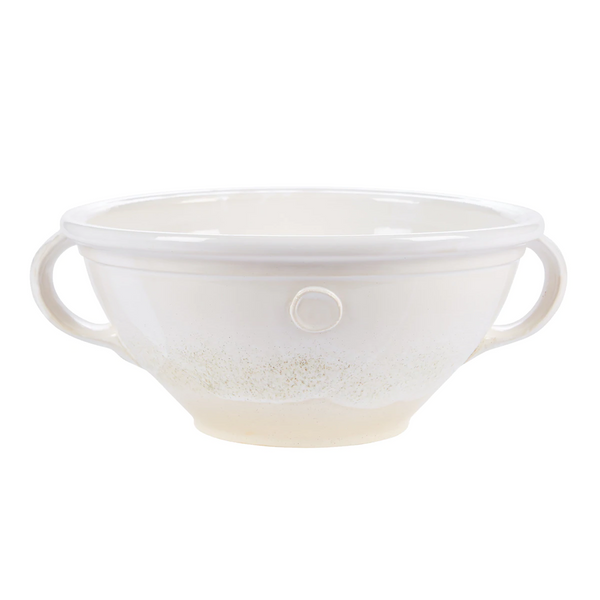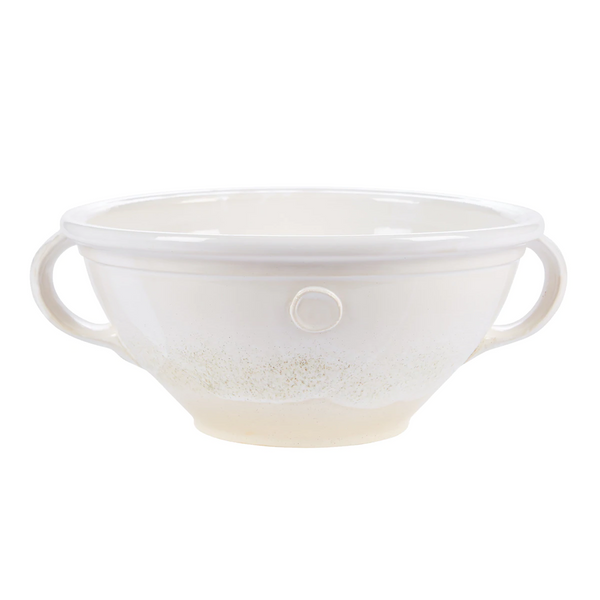 etúHOME Handthrown Serving Bowl
etúHOME Handthrown Serving Bowl

Handcrafted from white European clay, the Handthrown Pottery Collection is created by European artisans on an original potter's wheel. The pieces are inspired by classic European kitchens, mixing traditional designs with contemporary style. While each item is different and will vary due to the handcrafted technique used to create them, each piece boasts a unique lush glaze to enhance authenticity. The raw clay is left untouched on the bottom, while the top portion is dipped in a warm, white lead-free, non-toxic glaze for the perfect mix of traditional design and contemporary style.

The serving bowls were inspired by a French classic, the gresalle bowl. The ceramic bowls come in two sizes, small and large, each exerting the same effortless beauty as the next. With a clay seal on each side and strong handles, the ceramic dish is an ideal serving piece for your kitchen.

The shape, size, and surface area of this product may vary slightly from the pictures shown due to the differences in grooves, dips, and bubbles that normally occur in natural and recycled materials. These identifiers are unique to each product and help to authenticate each item as one-of-a-kind. Created by hand. It demonstrates the unique skill of the artisan in a world of mass production. Food is safe and contains no toxins or harmful substances. Made by artisans using age-old techniques that are rooted in regionally specific traditions.

Features
Each piece may vary from images shown in coloring, size, and glaze drips


Created one by one on the potter's wheel from white

European Clay

From beginning to end, each piece requires approximately 35 hours of work

The pottery is fired twice in a precision-controlled electric oven

Crazing will typically occur during the first fire and does not affect the quality or durability of the item

Glaze drips are the desired effect to enhance the individuality of each piece

Made in Europe

Hand Made

Food is safe and contains no toxins or harmful substances


Made by artisans using age-old techniques



Size
Small - 11"L x 11"W x 5"H


Large - 15"L x 15"W x 6"H



Materials
Returns
This item is covered under our 30-day return policy.