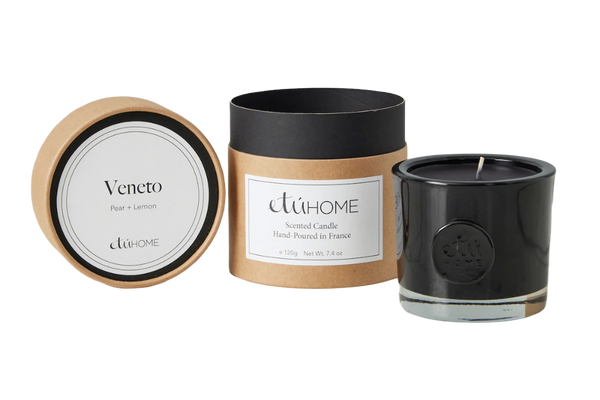 etúHOME Candle - Wine

France: Located in Southwest France, the Bordeaux region is the largest wine-growing area in France. The best wines are typically produced near the Gironde River, because the soil is made up of gravel, sandy stone, and clay, making it ideal for grape growing. Red Bordeaux wine is generally produced from a blend of several grapes: Cabernet Sauvignon, Cabernet Franc, Merlot, Petit Verdot, and Malbec. Our Bordeaux candle is the perfect marriage of obsession for travel and exploration. This full-bodied candle offers a fragrant nose of black current and green pepper with a lively and lingering finish of cedar.

Italy: Located in the North-Eastern part of Italy, the Veneto region is protected by the harsh Northern climate of the Alps. Dotting the rolling hills of the Italian Alps, Pinot Grigio is typically pale yellow in color with some golden hues throughout. The consistency of a Pinot Grigio is noteworthy, as it has a very smooth and almost silk-like appearance. Often consumed young, a Pinot Grigio wine is light, crisp, dry, and is refreshingly acidic. Our Veneto candle is the perfect marriage of obsession for travel and exploration. This light and crisp candle has flavors of pear and melon and offers subtle notes of tart apple and lemon. To complement the fruitiness, honey balances the crispness.

Our sophisticated candle collection is an extension of our obsession with travel and exploration. Each essential oil candle has its own story, each unique in its artisan craftsmanship. No different from our sustainable products and our attention to detail, each component of our candles is thoughtfully chosen ensuring a luxurious result. Our candles contain the finest essential oils created in Grasse, France, the perfume capital of the world. The essential oils are hand mixed with a blend of high-quality mineral and vegetal waxes. This customized blend, along with a cotton wick, guarantees the candle's longevity, and keeps the scent powerful each time you burn it, all while providing an elegant and smooth appearance. Our candles are made to burn longer than most traditional candles, and if burned correctly, can last up to 60 hours.


Features
Artisanal, hand-poured candle

10% essential oils from Grasse, France

Mineral and vegetal wax blend

Cotton wick

60 hours burn time

7.4 ounces

Hand made


Made by artisans using age-old techniques



Size
Materials
High-quality mineral


Vegetal waxes



Returns
This item is covered under our 30-day return policy.