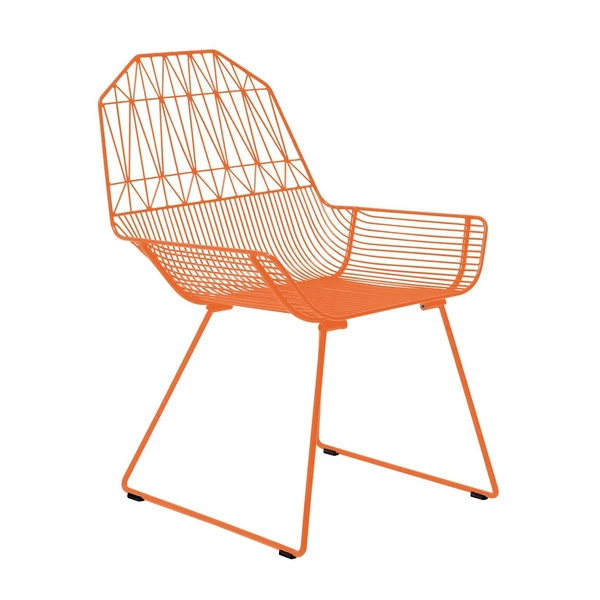 Bend Farmhouse Lounge Chair
Bend Farmhouse Lounge Chair
A structurally inspired design, the Farmhouse Lounge Chair is named and developed by the architectural style of Dutch barns seen around Pennsylvania. The wires criss-cross along the chairs back rest creating a strong and durable lounge chair. An architectures dream chair. 
Its overall form has an angle for maximum lounging so you can sit back and enjoy! The metal chair is available in multiple color options and is a perfect addition to your patio set as it is intended for outdoor use. 
The Bend design philosophy blends form and function with injections of fun and funkiness. We say that Bend pieces are "Built like a Buffalo" and can stand up to years of use for your continual enjoyment! Bend pieces are made of hot-dipped galvanized iron that is then powder coated or electroplated to create the finished product.
Features
As sturdy as an antiquated piece of farm machinery, and as easy to relax in after 10 hours on the clock as a pair of worn out dungarees
Despite its pure geometry there is a rustic quality in this chair
The backrest is inspired by the architecture of old Amish barns
A few minutes on this guy and you'll be inspired to quit your day job and live off the land
Suitable for indoor & outdoor use
Size
22" W x 16" D x 34" H




Seat: 17" H x 16" D
Materials
Note
Bend Seating products are made for indoor-outdoor use. To maximize the lifespan of coating, we recommend you store it in a dry, well-ventilated place during the time when the products are not being used, and ensure it is protected from any knocks and bumps
Returns
This item is covered under our 30 day return policy.